Machine Patchwork Classes
Our machine patchwork classes are designed to please both beginners and experienced quilters. Skill levels are indicated throughout. Sample quilts are for inspiration, color and fabric can be individually selected, the choice is yours.

* We provide unlimited tea and coffee (and afternoon tea) for class participants, but you will need to bring your own lunch.


Absolute Beginners! Free Class!

A free class designed for those who would love to make a quilt, but don't know where to start. Learn all the correct basic techniques of rotary cutting, machine piecing, including sewing accurate seams, pressing, quilt construction, layering, quilting and binding. These basic skills will allow you to progress to advanced designs with confidence. There is no tuition fee but you will need fabric, tools and sewing machine. A list of all requirements will be supplied when you enroll. Limited places available.

Sunday 15 & 29 July
9.30-3.30

Hand Applique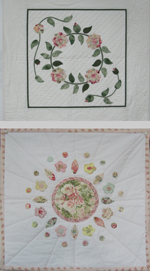 The classic technique featured in many Best of Show winners over the years. Jill will guide you through points, dots, stems, flowers, all the beautiful stitching knowledge you will need to produce a Traditional masterpiece or modern variation. Beginners welcome.

Saturday 21 & 28 July and 4 August
10.00-12.00
$60 - Jill Griffin
Bento Blocks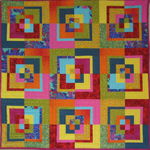 A colourful, stylish quilt featuring interesting piecing technique and finished with modern hand quilting with heavy thread. Some experience would be useful.

Sunday 2 September
9.30-3.30
$60 - Jill Griffin
Sunset Strip
California colours sparkle in this Batik quilt, with strip piecing techniques to make construction quick and easy. Cutting experience would be useful.

Sunday 16 September
9.30-3.30
$60 - Jill Griffin
Beginners Machine Quilting
An introduction to machine quilting which will include - Preparing and layering the quilt. Suitable threads and needles. Exploring your machine's stitches and tension. Creative walking foot quilting. Free motion quilting.

Sunday 9 September
9.30-3.30
$60 - Virginia Koster
Asian Style Jacket
For many centuries patchwork and quilting have been used to reinforce, repair and decorate garments and household items all over the world. Simple to sew and construct without a formal pattern, this is a classic, timeless Asian garment. Some experience needed for this class.
Sunday 5 & 12 August
9.30-3.30
$120 - Virginia Koster
Machine Applique
A great technique for creating all sorts of quilts, durable children's quilts, graphic art quilts, or traditional beauties, and garments. This class will feature samples of numerous techniques for making and stitching applique. Suitable for beginners.

Sunday 19 August
9.30-3.30
$60 - Virginia Koster
The Finishing Touch
Solve the dilemma of finishing your quilts. Straight or Bias bindings, single or double binding, mitered corners, decorative edgings and stitches, width of binding and much more will be demonstrated during the class.

Saturday 1 September
1.00-3.00
$20 - Jill and Virginia
UFO Days
Possibly our most popular day, the original and the best, a day to work on any project you want to finish, with assistance if you want it, and delicious afternoon tea, amongst friendly company.

Sunday 9.30-3.30 $20

22 July
26 August
23 September


IMPORTANT!
It is essential that you pay for your class or UFO day at the time of booking to secure your place. Two weeks notice of withdrawal is required to receive a refund of your class fee. (We understand that personal emergencies do arise from time to time and the circumstances will be taken into consideration at the time).