Machine Patchwork Classes

Our machine patchwork classes are designed to please both beginners and experienced quilters. Skill levels are indicated throughout. Sample quilts are for inspiration, color and fabric can be individually selected, the choice is yours.

* We provide unlimited tea and coffee (and afternoon tea) for class participants, but you will need to bring your own lunch.
Absolute Beginners! Free Class!

A FREE class designed for those who would love to make a quilt, but don't know where to start. Learn all the correct basic techniques of rotary cutting, machine piecing, including sewing accurate seams, pressing, quilt construction, layering, quilting and binding. These basic skills will allow you to progress to advanced designs with confidence. There is no tuition fee but you will need fabric, tools and sewing machine. A list of all requirements will be supplied when you enroll. Limited places available.

Sunday 26 March & 2 April [2 sessions] 9.30-3.30
No tuition fee
Sunday 5 and 12 November [2 sessions] 9.30-3.30
No tuition fee
Big Deal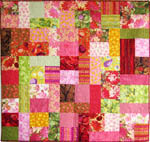 A big statement in record time! This is very simple construction but features large prints in all their glory. Could be a good "stash busters".

Sunday 16 July 9.30-3.30
$60

Cosmic Stars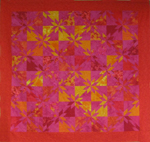 Here is a chance to wallow in the fabulous possibilities of batiks- making their subtle variations sing OR using traditional prints to make a classic Hunter's Star. Either way this is a great quilt.

Sunday 13 August 9.30-3.30
$60

More Chic than Shabby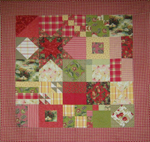 A blast from the blast but what is old is new again. The Shabby Chic look is showing up in the home decorating world and this quilt - in any color scheme - would give relief from the hard edge modern trend of the past few years. Many possibilities to make blocks to create your individual style.
Sunday 10 September 9.30-3.30
$60
Blackford's Beauty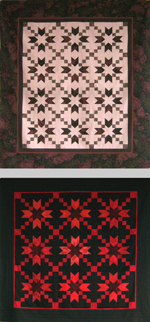 See what can be done with a very traditional quilt block! Increase the block size and the design becomes more dramatic and bold. Decrease the block size and the quilt feels more traditional. This pattern can do it all. Good candidate for some of the beautiful prints available.

Sunday 8 October 9.30-3.30
$60

UFO Days
Our most popular day, the original and the best. A full day to work on your latest [or oldest] project, amongst friendly company, with assistance if you want it, and delicious afternoon tea.

Sunday 9.30-3.30 $25

30 July
27 August
24 September
29 October
26 November
17 December


IMPORTANT!
It is essential that you pay for your class or UFO day at the time of booking to secure your place. Two weeks notice of withdrawal is required to receive a refund of your class fee. (We understand that personal emergencies do arise from time to time and the circumstances will be taken into consideration at the time).